Appreciating Luv Is Rage 2 by Lil Uzi Vert
|
This month I decided that Apple Music won't be getting any of my coin (even though I've been finessing them with a student account, but that's another story). With that being said, I've been using Pandora as my one and only music streaming platform. I needed something new, and I was tired of listening to the same playlist just for the sound. I wanted to be able to pick one thing, and be pleased with every song that followed, no skips, no changes.
So I turned on my 21 Savage station and I was surprised. First of all, somehow "Money Convo" has become my favorite song from ISSA, like that track makes me so happy. (seriously considering it as my prom walk out song). But then "444+222" came on and I had to 'wop wop'.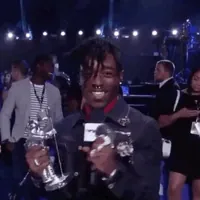 After a couple more days having the tracks that belong to Luv Is Rage 2 pass my radar, I knew that I had made  a mistake on not taking this project as serious as all of my homies did. I'm not saying Uzi is being slept on, I'm not saying he is the best rapper alive, but he does have some bops y'all. Like I honestly can appreciate him more as an artist now. And I never thought I'd say that.